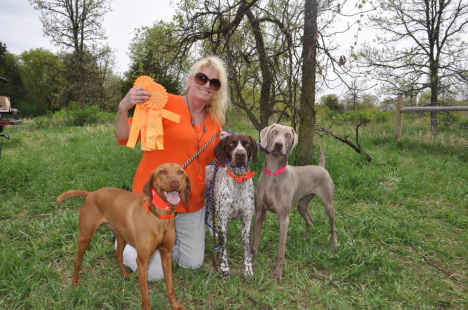 May 9 & 10, 2015: Great weekend! L-R Vizsla - "Katniss" new Junior Hunter, me, GSP - "Preston" 2 Senior Hunter Qualifications; halfway to new title, Weimaraner - "Rosebud" new Junior Hunter title!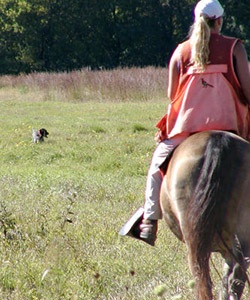 ---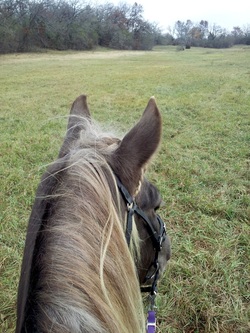 I
really enjoy judging and have some show and field judging assignments this year that I am looking forward to.
Especially field - what could be better than riding one of my horses all day judging pointing breeds? Whether it's the ring or the field I always say I am lucky to have "the best seat in the house". :)
Currently I'm a member of the
The Weimaraner Club of America
, President of The Weimaraner Club of Northern Illinois, The German Shorthair Pointer Club Of America, I serve on the BOD of The German Shorthaired Pointer Club of Wisconsin and am show specialty chair, The Parson Russell Terrier Association of America, Wisconsin Chapter & Kettle Moraine Chapters of NAVHDA and I am a Life Member of
The Rocky Mountain Horse Association
. After serving as President and other officer/chair positions of quite a few dog clubs for several decades, I am paring down my club involvement and client dogs so I can do what I love to do - work my dogs and spend more time on my horses. Then... they sucked me back in! LOL
There are many breeds and facets of training that intrigue me and I just plain love dogs. The first Chinese Crested came at a time when I was in the middle of cancer treatment. Crystal certainly brought the laughter back into the house. Two are much better than one and my father always said "every pet needs a pet" so the next year Juni was imported from Sweden. Those two are so funny and beautiful I will forever be committed to this breed. My Cresteds are not only AKC show champions, they are 'real dogs'. They run around my property at top speed, leaping thru the cover in the pasture, accompany us on trips and love to lounge on my leather sofas. I have started working with them on tracking and have been pleased at how much they enjoy using their noses and discerning human scent from everything else. Currently I am working "Lis" my Dutch import in advanced obedience and hope to have her ready for obedience titles this year. She is not the typical Crested, much less dog and is a true "thinker".
---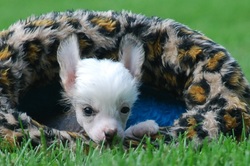 Occasionally, I will produce a litter of Chinese Crested or Weimaraner pups and when I do there are very exacting requirements that go into those decisions and pups only go to qualified homes. AKC awarded me Breeder of Merit for both Chinese Crested and Weimaraners since my breeding program is very small, but quality focused. I have a strict policy of taking any puppy I have produced back for any reason if the owner cannot keep it. It was my idea to produce that pup, so why shouldn't I have some continued responsibility for it throughout it's lifetime? There is only one way to know if my goals are being met and that is through observation and interaction with the pups I've bred. The best part is all the great pix and stories I get from families that have made their puppy a true family member. Titles are great, but every dog deserves a loving home.
​Newsflash! March 2018 - Valen has been bred and I am extremely hopeful for a beautiful, healthy litter of Parson Russell Terriers! (See Puppy News Page for more info)

---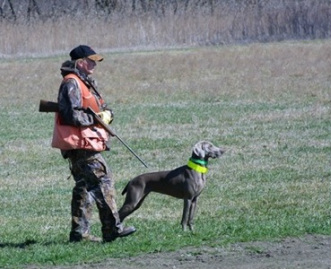 ---